There are many video and audio download tools used for your laptop and computer. You can search on Google and find the best one for you. However, when it comes to video downloader for Android, there are not that many. In the article, we introduce a good video and audio download tool for your smartphone run with Android.
What is Snaptube?
We can search for and get numerous video and audio downloaders which are used only for Windows. However, it seems harder to get the one for our smartphones, whether they are android or not. In fact, we need a video downloading the app for our smartphones more than the app for our PC. You do not believe it? Let's me explain. 
Nowadays, smartphones have many functions, and in many faces, they can replace a computer. That is the reason why we often have our smartphones with us, except when we sleep. When you are surfing the internet and you accidentally watch an interesting or necessary video. You know that you need this video and you make an attempt to save it. First, you copy the video link and save it. Then, you turn on your computer and try to download the video. It is too complicated.
Snaptube will help you to solve this problem. Launched in November 2014, Snaptube has been one of the best video downloaders for Android. Users can install Snaptube on their smartphones and start downloading videos and audios that they want. This app is available in some app stores, such as Uptodown.com, UC 9Apps Aptoide. However, it is not available on Google Play. This is due to the Google policy which aims at protecting intellectual property. They do not allow users to download Youtube videos straightly from the platform.
How to use the app Snaptube?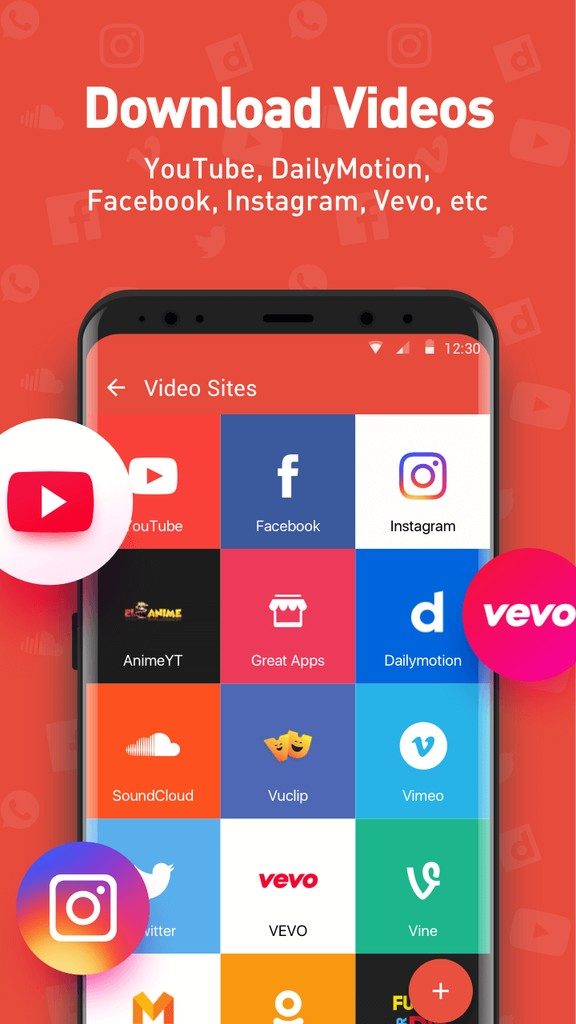 Not similar to other apps which allow users to download videos online, you need to download and install Snaptube app to use it. First, go to the address www.tulidescargar.com and click on Download SnapTube. If there is a window popping up, just click on OK. If there is no window, it is fine and the download will be automatical.
Normally, you will see the download list of browser. If you cannot see it, check the notification bar. Now you have to click the notification of downloaded Snaptube to install it to your smartphone.
For the first time using, if you see the page which says "Install blocked", go Security in your smartphone Settings and turn one Unknown source. As Android just allows users to install apps in Google Play, it will block Snaptube (Snaptube is not available in Google Play). Now your smartphone will allow to install the app Snaptube.
Why do many people like to use Snaptube?
There are some reasons why Snaptube receives the rate of 9/10 from thousands of users all over the world.
The various sites supported
When checking on the internet, we often get the platforms or apps which allow to download videos from the most popular video platforms like Facebook, Youtube, Twitter,… It is hard to find an app that can support as many sites as Snaptube. Users can download videos from up to 20 sites as follow: facebook.com, whatsappdaily.com, vine.co, liveleak.com, mthai.com, mrpopat.in, funnyordie.com, instagram.com, dailymotion.com, vuclip.com, twitter.com, pagaworld.com, pinguda.com, vid.me, vevo.com, vimeo.com, metacafe.com, tune.pk, dailytube.com and 3gpmania.co.
The video you need may be only available in pagaworld.com, for instance, and your current video downloader does not support this site. That is when Snaptube becomes a perfect one, allowing you to save videos from all these 20 sites directly to your smartphone.
It is free and fast
Snaptube lets you download as many videos as you want without having to pay anything. No fee required so you do not need to worry about the money you have to pay. Many other video downloader apps, on the other hand, often charge a particular amount of money for the services they provide. And if you save many videos, the money will be huge. About the speed, Snaptube has high and stable speed, which will save you a lot of time when downloading.
Multiple choices over resolutions
When you click to Download, the app will appear "Download video as". You can choose to save the video as music or video. The resolutions available for
audio file include MP3 and M4A. For video files, there are many resolutions for you to choose from: 144p, 240p, 360p, 480p, 720p HD, 1080p HD and 2K HD.
Easy to use
Simply, you just need to type the URL of the video needed in the search box, choose the resolution you want to save your video in and download. However, there are some great things that make Snaptube more advanced than other video downloader apps and platforms. 
Snaptube has "Video Sites" category, in which you will see the symbols of the most famous video sites such as Facebook, Instagram, Twitter, Dailymotion, Vimeo, Vevo, LiveLeak, Funny or Die,…You can go to any of these video platforms, type the video name you want or type something that is most related to it. Then, the videos will appear like you are in the Youtube platform, for example, and you just need to start downloading.
Besides, it also has the "Popular" category. It allows you to watch the trending videos and to decide whether to save it to your smartphone or not.
If you want to download several videos, there is no need to download them one by one. Snaptube lets users save videos in a list, each list includes up to 10 videos. This function is available in some other apps, but you have to pay money for this advanced function. However, with Snaptube, it is totally free. This is one of the things that many people like most as they can save time waiting for a video to be downloaded before downloading another video.
Snaptube is an app which allows users to download audio and video from many different video platforms. It is easy to use and has many good functions. If you are about to get some videos saved in your smartphone, Snaptube is worth to try.